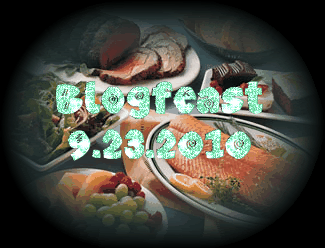 I'm very excited to host my very first blogfest. For our theme, I've chosen something we've all loved and hated at some point in our lives. Something we indulge in on a daily basis. Something we cannot live without. Yes, I'm having a
BLOGFEAST
on
September 23, 2010
! Not only is it a blogfest of food, but it's also a feast of blogs. Please join me in sharing a post regarding anything
*food
.*
It can be a scene where food is central or just happens to be in the scene. It could be a poem about food. Heck, it could even be about a character named after food, i.e.,
Powdered Toast Man
or
Cheeseboy
(might wanna ask them if yer thinking of writing a lil story about these guys, lol). If you end up simply posting a recipe, I'll be sorely disappointed if it's not at least presented in some way resembling creative and literary, something we've not seen before :)
I suggest shooting for around 500 words or so, but if you end up over by a few hundred, we won't beat anyone up over it. With this 'fest, it shouldn't be too difficult to keep it fairly short. Please sign up by September 23 on the linky thing, and if you do sign up, remember to post with a link back here so everyone can find all the blogger links in the Blogfeast. Thanks, all, for reading, and I hope you get a chance to join the fun!